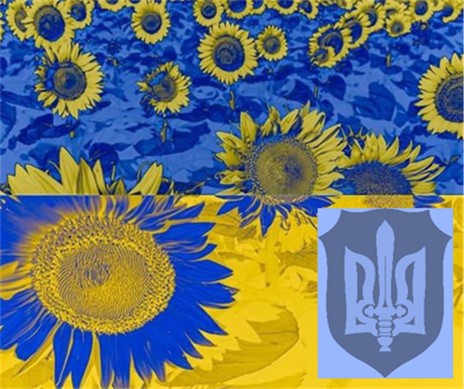 Diasporic Postcards: NATIONALISM
Слава Україні (Slava Ukraini/Glory to Ukraine) is a national salute symbolizing Ukrainian sovereignty and resistance. The salute was forbidden in Ukraine's historic fights for independence and it often went underground. But in 2013, during the Euromaidan, a wave of demonstrations in Kyiv's Maidan Nezalezhnosti (Independence Square) protesting the decision not to sign the European Union–Ukraine Association Agreement, the salute became the protesters' chant of choice and represented their hope for a better future. It has since become the country's banner cry again.
For me, Ukrainian nationalism has a rather dark shadow side, equivalent to that of Trump's 'Make America Great Again.' I observed, while growing up, that being an ardent Ukrainian nationalist meant hating Russian and Polish people, being antisemitic, bigoted, and racist. It's a side of my parents I have grappled with for decades as they were also loving beings. Only more recently have I been coming to terms with the notion of the coexistence of light and shadow within us simultaneously.
I don't know if my parents were conscious that they were asking their children to carry on a legacy of intolerance, but they made clear to us that Ukrainian culture was in peril and, in their desperate eyes, could only survive in a 'pure' race. At the same time, my parents strongly encouraged higher education and free thought and my brothers and I developed skills as critical thinkers – and so we rejected their prejudices.
My parents also prophetically named me Lubomyra (love of peace), not Luboslava (love of glory), and they ended up with a daughter who champions peace, not glory. I want peace and freedom in Ukraine…in Syria, Afghanistan, Yemen, Gaza, and in all conflict areas. I want peace for Indigenous populations, people of colour, all genders, and for nature. I want us to have peace in our minds, bodies, and spirits. So, I will be chanting Mir Ukraini, peace for Ukraine. That is my hope for its future.