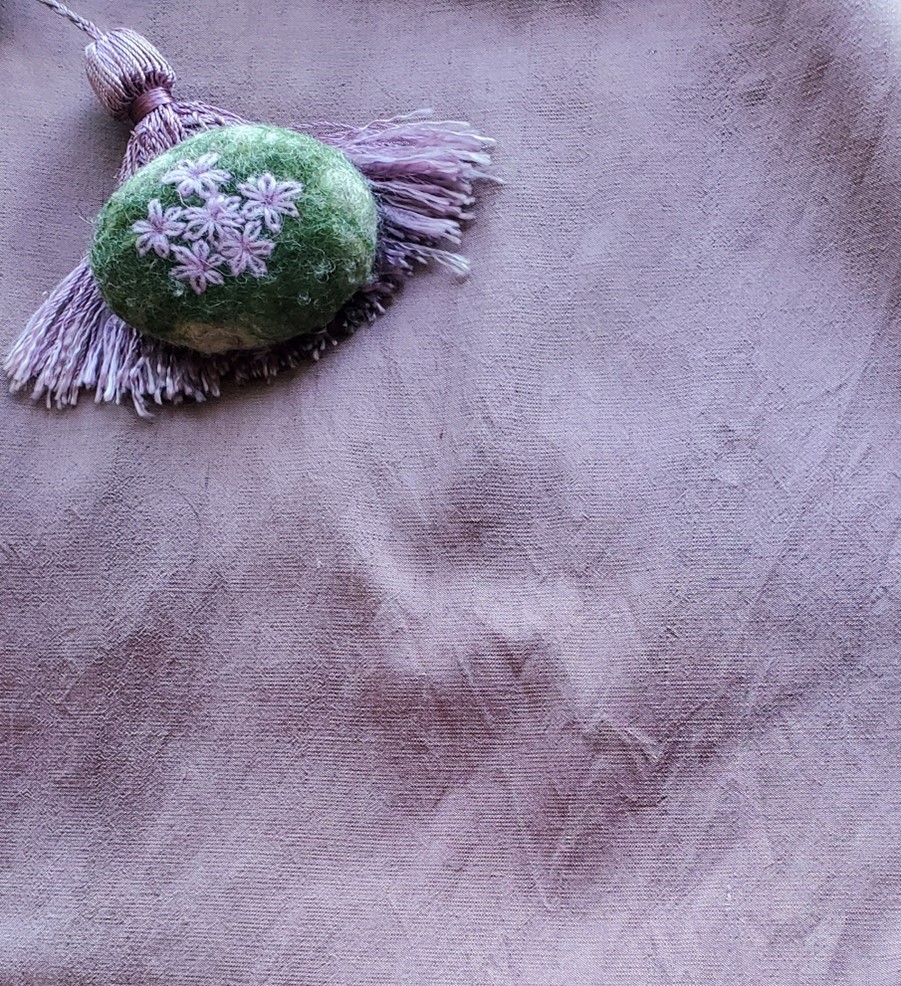 Icelandic Stone Wrapped in Embroidered Wool Coverlet on Tassle on Raw Silk.
A Nebulous Number of Days of Atomity and Memory
Icelandic Fairy Trails
I first became enchanted with Iceland after having seen some Icelandic films and, at around the same time, I had the good fortune of attending a concert by the Icelandic band, Sigur Ross, whose music left an indelible imprint on me. The creative explosion in a country the size of Iceland was intriguing to me and, as I learned more and more about the country's vibrant artistic and music scene, I was awestruck. Something unique was going on there, energetically speaking.
Then came a specific point in my life when I was particularly hungry to escape Toronto, so when I noticed a proliferation of advertising related to affordable flights to Iceland, my attention was secured. Typically, when I'm suffering malaise related to my Canadian anchor, I'm drawn to fleeing to Europe, but this time I started researching a vacation in Iceland and was on the verge of booking a flight when something cataclysmic occurred. Iceland's Eyjafjallajokull volcano erupted sending clouds of ash and dust into the atmosphere, interrupting air travel between Europe and North America. Not only was my trip to Iceland put on hold, but I wasn't even able to travel to Europe until the air cleared.
In subsequent years, I was distracted from visiting Iceland because of a friend's wedding in Germany and a writers' conference in Italy. But soon after that, yoga retreats started cropping up in almost every corner of the planet and I came to the conclusion that going to a yoga retreat abroad was a perfect travel option for a single female and, at the same time, could advance my spiritual exploration. Synchronistically, there was a plethora of such retreats in Iceland, some of them rather affordable considering Iceland's reputation for being a very expensive place in which to travel. So, despite my lifelong aversion to cold and barren landscapes, I set out for this land of midnight sun and no trees.
I launched the journey with several days in Reykjavik on my own. My hotel was ideally situated on the edge of the easily walkable downtown core and just steps from the Atlantic coast. Each morning, I'd amble along the harbour and fill my lungs with the exhilarating sea air and soak in majestic views such as I had never seen before. It was very early in my stay that I surrendered to checking weather reports as I discovered conditions changed radically and rapidly. From penetrating sun and stillness to clouds and blustery winds to rain accompanied by chilling fog – it was a never-ending variety of microclimates. Consequently, I adapted swiftly to dressing in layers that could easily be shed and thrown back on again, and that included an invaluable hooded impermeable, an insulating sweater (also hooded), fingerless and fingered gloves, a hat, and scarf. My trip was at the end of July, by the way.
My modus operandi upon arrival in any foreign city is to partake in a walking tour, and Reykjavik was no exception. Such walks are an efficient and congenial way for an empathic introvert such as myself to acquire one's bearings, become comfortable with one's temporary home away from home, discover local history, and possibly meet some fellow travellers. It was on such a perambulatory excursion that I first learned about Iceland's folklore and reverence of fairies (which includes elves, mountain spirits, trolls, gnomes, and dwarves).
Our young tour guide seemed reticent, almost apologetic, even a tad embarrassed describing Icelanders' belief in huldufólk or hidden folk. It was as though he feared his people would be perceived as simple and non-metropolitan. But as someone who once captured on video the genesis of a spirit orb during a rapturous outdoor cello recital in the forests of Quebec's Laurentian Mountains, who was I to question the existence of the hidden people of Iceland.
From Reykjavik, I travelled to my yoga retreat in Akureyri which is considered the unofficial capital of North Iceland. It's a location that has one of the warmest climates in Iceland, even though it's only 100 kilometres from the Arctic Circle. I didn't think anything could surpass Reykjavik's ravishing natural splendour, but Akureyri is situated on one of the longest fjords in Iceland, that of Eyjafjörður, and it's surrounded by hills and mountains. I had landed in a veritable Shangri-La and no one could have asked for a more spectacular destination, let alone an inspirational setting for a yoga retreat.
The itinerary was organized by a married pair of Swiss ex-pats who had made Iceland their home some years before, and the perfectly balanced dynamic duo each contributed a multitude of talents and expertise to the retreat / excursion. The wife was our ethereal yoga master and she possessed the glow of a pre-Raphaelite maiden. Her husband had been a language instructor and translator and was fluent in more languages than I can count on one hand, which meant he could deftly communicate with international retreaters from a large variety of countries. I was immediately impressed, but the retreat organizers sealed my adoration when our first outing was a walking tour of Akureyri.
It was on this promenade where I learned even more about Iceland's fairies. In Reykjavik, we had been taken to a stone marking a sacred fairy spot, but in Akureyri, we were escorted to the primary residence of an elf. Here, humans had constructed an appropriately small-scale waterfall to honour the mythical inhabitants. Our host also shared that it's not unheard of for government bodies to delay building projects in order for huldufólk experts to ensure no fairies were occupying a site where construction was planned. But like the guide in Reykjavik, he too seemed somewhat uncomfortable sharing this information with us.
I, however, believe we are surrounded by spirits we cannot see. I also accept that, like our bodies, the Earth has chakra points and they have, in turn, become meccas for seekers. In addition, I'm convinced there are energetic vortexes throughout the planet that attract like-minded creators. How else does one explain artistic hubs such as Florence during the Italian Renaissance or, in this century, music recording studios like Muscle Shoals in Alabama, or Rockfield in Wales, both so far from the madding crowd, that they would be considered the last places on Earth one would expect some of the greatest popular music of the Western world to have been created and recorded in the last half of the twentieth century.
It's easy for sceptics to dismiss folklore or synchronal forces as nonsense, but I can't discount the ethereal qualities of my experiences in Iceland and at the yoga retreat. One of the most magnificent adventures there was an hours-long hike to a surreally gorgeous glacial lake at the base of a valley completely encircled by mountains. The starting point for the trek was an isolated rustic farmhouse outside of Akureyri. The owner was a friend of our hosts and, because of their relationship, we were given exclusive access to the woman's bountiful hospitality in a home of unparalleled pastoral sublimity. She was one of those souls to which one is instantaneously drawn – her sweetness and earthiness radiated from every pore.
She had prepared a nurturing and visually stunning meal replete with edible and decorative wildflowers and other local gifts of the earth. I ate hastily and greedily as though it was my last meal. I am embarrassed now that I didn't show more restraint, but the food was so rife with flavour and infused with love. At a large table that accommodated the dozen or so of us, we sat upon stools with cushions upholstered in wool – each one a unique work of art with a different treatment and design handcrafted by our host herself. From the windows of the dining area, we gazed upon the small mountains through which we would be hiking to the glacial lake.
I buy very little if anything when I travel these days, but I could not resist purchasing the tiniest of mementos of this transcendent day, namely a small oval stone covered in the same kind of spun wool found on the stool cushions upon which we had sat. The wool was made to look like rock and moss and it was further embellished with embroidered wildflowers. It appears to be a very basic keepsake, but I revel in its delicacy and tactile nature.
I used to keep this stone at my workplace and hold it during times I felt stressed or anxious. Doing so always took me back to that tranquil Icelandic valley and reminded me of the meal fit for immortal deities, of our angelic host, of the majestic trail we hiked to reach a lake hidden far from civilization, and of a land where fairies are as real as the substantive volcanic boulders, spewed out from the deep reaches of Mother Earth's belly, that are scattered throughout the landscape.
Currently, this stone rests underneath my pillow, perhaps in an unspoken hope that I will be sprinkled with fairy dust as I sleep or perhaps that it will arouse through dreams forgotten memories of another life lived. Whether I sincerely believe in fairies is of no consequence. What I do know for certain is that Iceland has a uniquely mystical quality – I have yet to encounter anyone who has visited the island that has not fallen under its bewitching spell.