In my first book, Theft By Chocolate, inspired by my more than 20 years working at the Royal Ontario Museum, I left certain elements of the ending open. But after two years of readings and marketing the book, I felt I was done with the storyline and characters. The book had been inspired by a real-life and never-solved opal heist at the ROM in the 1980s and I weaved in some factual, but little-known, information about the designer theft into a fictional story revolving around Kalena Boyko, an amateur sleuth looking for chocolate, love, and an international art thief in all the wrong places.
Since writing the book, I had cleaned up my own sugar addiction and chocolate obsession, so the thought of continuing a tale with a chocolate-addicted protagonist was feeling a bit foreign to me. However, I kept hearing from my dedicated readers and they wanted more of Kalena Boyko and her quirky troupe of museum workers. But then inspiration for a new story with my existing characters came from an unexpected source – documentary films.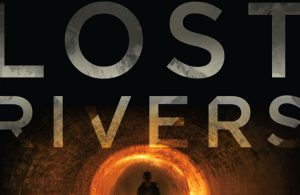 After seeing the Canadian film Lost Rivers and discovering that there are five lost rivers that have been undergrounded in Toronto, I was reminded of the fact that Taddle Creek once ran through the University of Toronto, right behind the ROM where Philosopher's Walk now lies – it still exists, but it's been undergrounded. Lost Rivers also highlighted the fact that there are movements to daylight such rivers in urban centers across the globe for impactful environmental reasons. So, I was resolute in crafting a story that would not only feature these unseen waterways, but also other sites that residents of and visitors to Toronto rarely see and often have never heard of.
I had no clue how I was going to build my story. With my first book, I had developed a detailed story outline and created character profiles with full back stories. That was definitely the right strategy for a first novel. But because I was so busy with my survivor jobs (frantic executive assistant by day and slightly more chilled yoga instructor by night and weekends), I didn't have the creative space to fashion the same kind of global plan I had forged for the first book. Instead, for Theft Between the Rains, I decided to use the write-as-you-go method and front-end it with a plethora of research which included two summers of going on the Toronto Green Community's Lost Rivers walking tours.
In the meantime, I became intrigued with another documentary film, The Rape of Europa, which examines the struggle to recover and return art stolen during WWII. It was a subject matter that's always fascinated me, especially after some comments my mother had made about some of her experiences during the Second World War. As a result, I came up with a new spin on these lost works – what if instead of locating such art and returning it to the owners, the works just start showing up on Kalena Boyko's doorstep? I now had something I could run with to shape my tale – one chapter at a time – and I was excited to present people to drainers (intrepid groups of subterranean explorers) through a new character introduced in Theft Between the Rains, the endlessly fascinating Benny.
Although I was committed to touring readers to parts unknown of Toronto, I wasn't always able to visit sites in person due to inaccessibility to the public. Consequently, I had to do some Internet mining for photographs of places such as the Earlscourt and Junction sewers. For other scenes, like the one that takes place at the ROM's off-site storage facility, I met with a group of former Museum employees who knew the premises well and they were happy to share their knowledge with me. Some literary license was also involved, but then, this book is a piece of fiction, after all.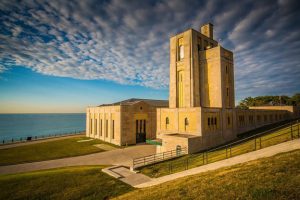 For some of the other locations, I took advantage of Toronto's Doors Open annual event to visit sites that normally are not open to the public, including the R.C. Harris Water Treatment Plant and the Lower Bay Subway Station (which is only used for film shoots). Inspiration for other scenes came from spots with which I was very familiar, like one of Toronto's most unique bakeries located steps from my home as well as a slightly fictionalized version of my own residential building.
To tie these unusual settings together I used a water motif that runs strongly throughout the book, whether as rain, rivers or drinking water. As the story was unfolding on computer, in real life, Toronto was being ravaged by recurring flooding and I was able to draw from and integrate news headlines from local reports. In addition, for one particular plot element, I reluctantly brought in events that happened in my own life and affected my health. The reluctance stemmed from a fear of being vulnerable and sharing my complicated and rather uncommon relationship with water. I hadn't planned on putting it in the book. In fact, it was added much later in the writing. But a revelation I had while conducting research ended up being life-changing for me and opening up my understanding of some of my health issues. I decided to keep it in the work. It was difficult, but cathartic.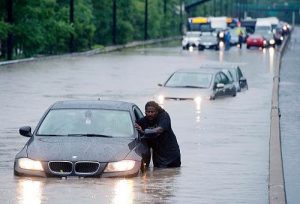 Although writing Theft By Chocolate had been a fun ride and publishing it involved so many remarkable experiences, including launching it in the UK (with readings in London and Edinburgh), I am even more excited to be sharing Theft Between the Rains with readers. I feel it's a more mature work and while the story in Theft By Chocolate rested closer to the surface, one of the intentions behind Theft Between the Rains was to prompt readers to question the sustainability of keeping our city rivers underground, to highlight the importance of continuing our efforts to reduce the causes of climate change, and to think more profoundly about immediate environmental remediation. And what better way to get such messages across than by planting them in a page-turning mystery that also embraces the same sense of humour found in the book's prequel.