When I was considering the subject matter for the sequel to Theft By Chocolate I was in a quandary about how I was going to follow up my story of an amateur sleuth looking for chocolate, love, and an international art thief in all the wrong places. My debut novel was a humourous, cozy thriller, but it was also a sincere love letter to the Royal Ontario Museum, where I had worked for more than 20 years. For the next installment, I wanted a story with more grit, which would continue to pay tribute to the ROM, and which would also feature, in a grander way, the city of Toronto, which I had come to love since moving here more than 30 years ago.
For the new book, Theft Between the Rains, I soon found inspiration from a most unexpected source, from the Canadian documentary film Lost Rivers, where I learned that there are several 'vanished' rivers running through urban Toronto, but that they have been undergrounded and tied into the city's sewer system. For the art theft and thriller element, I devised a storyline about art work, stolen during World War II, unexpectedly and inexplicably turning up on lead character Kalena Boyko's doorstep. But how would this plot line connect with Toronto's unseen waterways? That's where research came into play, in particular two summers of going on the Toronto Green Community's Lost Rivers walking tours.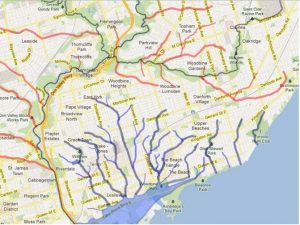 It wasn't long after starting to participate in the walks that I found a way to tie in my research on the city's concealed rivers with the primary setting of the book, namely the ROM. It was on one of my first Lost Rivers tours that I was reminded that the Museum sits atop the buried Taddle Creek. And, with the use of a new character, Benny, a University of Toronto grad student by day and drainer (an interprid subterranean explorer) by night, the following excerpt from the book features one instance of how I melded my goals.
In this scene, protagonist Kalena meets up with an odd character initially introduced in Theft By Chocolate, as well as with Marco, a ROM security guard and Kalena's partner in crime solving, and with the intriguing drainer, Benny.
As soon as we pulled up to the curb, Bob sprang out of the car and lit a cigarette. He exhaled a smoke ring, then leaned inside the vehicle, "Why don't we go sit on one of those benches by that big pitcher thing. It must be about twenty feet high."
I muttered under my breath, and Marco rolled his eyes at me as he exited the car. Was he annoyed with me or with Bob's tobacco addiction?
Bob-just-call-me-Bob had already propped a foot on one of the backless benches and was hunched over with his elbow resting on the raised thigh. While approaching him, I paused to see which way the breeze was moving, ensuring I was upwind of the billowing smoke, and took a seat. With shoulders huddled, I shoved my hands into my coat pockets and tucked my body into as small a footprint as possible. Marco slipped into a spot between Bob and myself, unzipped his coat, removed his hat, and sat back as though it was a steamy Caribbean night.
Bob pivoted slightly and pointed at the sculpture with his cigarette. "That is the weirdest piece of public art, if you ask me."
"It is actually very clever," said a female voice from behind us.
I zipped around. "I thought that voice sounded familiar." I rose to my feet, and as Benny neared us, I ran and hugged her like she was my long-lost sister. "This is an unexpected reunion."
"Marco told me you had a very exciting day," Benny said trying to loosen herself from my grip.
"That's an understatement." I finally released Benny but leaned in towards her. "I'm sure glad you're here," I said in a hushed tone.
Bob drew a last puff on his cigarette, tossed it to the ground, and stomped on it. "Nice to see you again, Miss Benny."
"You two've met?" I asked.
"Once…when I was at Marco's home for Thanksgiving. Bob dropped in for a little while to visit with Marco's father."
So, she had met Marco's family.
"Back to this fountain," she continued. "Like most water features, it is bellisimo when the water is actually flowing."
Benny's lovely, long locks were unbraided and rippled gently in the soft wind. She wore over-the-knee black suede boots, with a heel you could easily run in, over black leatherette tights embossed with what appeared to be a velvet paisley pattern. Her lime green tent jacket just skimmed the top of her thighs and was closed at the neck with a single over-sized black button.
This was not the drainer I had met that first night. This was a woman who could walk down the Via Veneto in Rome and turn heads of all genders. She had that gift Italian women have of pairing a few fashion-forward, but not necessarily expensive items so brilliantly that it made them look like they had walked off the pages of Vogue. There was no point in envying her – one's sense of style is as innate as one's intelligence.
"Oh, I get it. The water streams out of the top of the pitcher and fills the wading pond," said Marco, interrupting me out of my admiration.
"Di preciso. The over-flowing pitcher is made up of approximately four kilometers of stainless steel rod and is meant to represent the length of Taddle Creek."
"It's so embarrassing that you know so much more about something that is a stone's throw away from the Museum than we do," I said.
Benny giggled. "Please do not feel troubled. It is my vocation to know about this. I teach my students about these matters in my graduate tutorial. Taddle Creek is another buried treasure in Toronto. It rises from a small pond fed by a creek. You can still find the pond in Wychwood Park. From there it flowed southeast, across Bathurst Street and then southward to this area and finally to Lake Ontario."
"Well I do know the creek is what created the hollow that forms Philosopher's Walk. I even traipsed through it to get here tonight. It's hard to believe those grassy slopes were once filled with water."
"The creek was first called Ziibiing by the Anishinaabe people. It was an important waterway for transportation and food and was known to be a meeting place for both the Anishinaabe and Haudonausonee peoples. It had a significant spiritual importance to the peoples that lived here before the Europeans invaded. Can you imagine how lovely this whole area would be if the waterway was daylighted?" pondered Benny. "Instead, what was once an oasis has been submerged and is used to transport the city's sewage. It is a tragedia on many levels.
In fiction works such as Theft Between the Rains, a writer is often tasked with deciding on an appropriate balance of historical information that one weaves into a plot without making it resemble a history text book. So, the above passage contains just a fraction of Taddle Creek's captivating history. For example, besides Ziibiing, the creek was known by several other names including Little Don River, Goodwin Creek, University Creek, Wolz Creek, and Brewery Creek, and the creek disappeared underground in phases during the 19th century – east of Church Street prior to 1860, Elizabeth Street to Church Street in early 1866, and the University of Toronto sections, including McCaul's Pond, in 1886.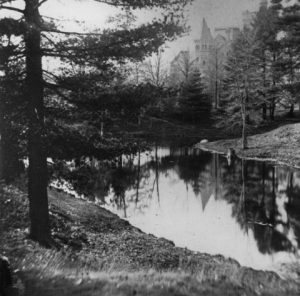 Currently, there is little to remind Torontonians of the existence of the epic creek. The Vessel sculpture (the pitcher), referred to in the above excerpt, is located in Taddle Creek Park, a small but busy green space at the southwest corner of Lowther Avenue and Bedford Road in the Annex. But until I discovered this whimsical piece of public art, my only knowledge of Taddle Creek had been the fact that it passed through Philosopher's Walk, where I often ate lunch while working at the ROM. It's a shallow ravine that runs north-south and is a beautiful respite from the busy traffic on Bloor Street, the Walk's northern boundary. To the east and west of this scenic foot path lay the University of Toronto's St. George Campus, including its Faculty of Law, the Royal Conservatory of Music, and the Royal Ontario Museum.
I don't remember when I first learned of Taddle Creek's existence in relation to the ROM, but I do recall its presence coming to the forefront during the Renaissance ROM project which included the restoration of the Museum's heritage architecture and construction of one of Toronto's most recognizable landmarks, the 'crystal' extension. At the time, I was working in the project office managing this construction and renovation and, obviously, the team had to take into account the location of the buried creek in regards to building the foundation of the addition as well as in developing landscaping plans for the new footprint.
There are other substantial edifices that rest above the buried waterway including several hospitals located on University Avenue, such as the Toronto General Hospital, Mount Sinai Hospital, Princess Margaret Hospital and the Hospital for Sick Children. Just north of Elm Street and University, Taddle Creek headed southeast to the rear of city council buildings and at Yonge between Queen and Shuter Streets, where the Eaton Centre now stands.
Taddle Creek then crossed over Queen at Mutual Street and met the Moss Park Creek after which it bent towards the southeast making its way through some of the oldest parts of the city, and it is surmised that it played a role in giving this section of town the historic nickname Muddy York. In its southernmost manifestation, Taddle Creek flowed southwest over to the Parliament / King Street intersection and then back southwest before joining Lake Ontario, where the shoreline was once located before infilling moved the lake's edge further south than its original location.
Aside from The Vessel in Taddle Creek Park and a bronze marker at Adelaide and Parliament Streets, there is little evidence of the waterway that once played such a significant role in shaping the city of Toronto. And it is only one of many invisible rivers in, or should I say, under the city. Besides Taddle Creek, I introduce yet another vital water system in the book, that of the Earslcourt and Junction sewers. It is one of my favourite locations used in the story and was inspired by some fantastic photography by Toronto creator Michael Cook who has long been exploring and photographing underground and marginal spaces. Just one look at some of the shots found on his web site www.vanishingpoint.ca will explain why I set several chapters of my book in this haunting underground setting. A writer couldn't ask for better inspiration.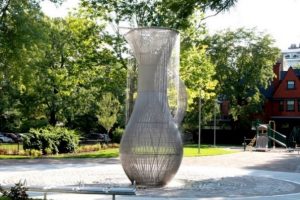 But what I consider inspiration, was a solution to Toronto's sanitation crisis in a part of the city that was annexed at the beginning of the 20th century and whose growth was largely unplanned. These particular sewers were built to drain a very large portion of the city after muddy streets, among other problems, became an embarrassment to the city.
Such issues might seem relegated to the city's past, but while my story was unfolding on computer, in real life, Toronto was being ravaged by recurring flooding. In fact, deluges continue to plague the city and wreak havoc on neighbourhoods on a regular basis. Such real events, news stories, and headlines, not only of storm damage in Toronto, but also in cities like Riyadh in the Middle East, fed my imagination and were integrated into Theft Between the Rains.
While the tale takes readers on a journey to several underground locales in the Toronto, it also introduces them to other lesser known yet utterly fascinating places in Toronto including the R.C. Harris Water Treatment Plant, the Lower Bay Subway Station (a ghost station used for film shoots) and to the green roof on top of the Royal Ontario Museum. But the primary motif in the book is water and one of my agendas in writing the work was to prompt readers to question the wisdom of burying urban rivers in cities such as ours. Around the world, visionary urban thinkers, activists and artists, are developing projects to daylight rivers that have been out of sight and out of mind for too long. And groups like Toronto's Lost Rivers are raising awareness about the relevance of keeping waterways like Taddle Creek underneath the surface of city streets.
Although Theft Between the Rains has a lighter tone woven in between a thrilling plot, there's an intent to make readers question whether keeping urban rivers underground is sustainable, especially in a time of changing climate, where storms are becoming fiercer and torrents commonplace. Decisions made two centuries ago seem no longer relevant nor prudent. We need to think more progressively and embrace environmental remediation in a proactive way. And by planting this message in an entertaining mystery about international art theft, I'm hoping to play a small part in consciousness raising.